HOST: Greek Community of Mississauga
Join us in viewing our exhibits and see the sights, culture, history, delicious traditional foods and dance performances highlighting various folk dances representing different parts of Greece.
website – www.prophetelias.ca

---
ENTERTAINMENT:
"It's All Greek To Me", come out and see what we mean. View our informative displays and exhibits, and you will be amazed at the influence the Greeks have had on the modern world today. Witness the sights, sounds and many dance performances highlighting traditional folk representing different parts of Greece. Visit Greece all weekend long and enjoy performances every half hour. Learn to dance like the Greek. OPA !
---
CUISINE:
Come and taste our tender souvlaki, tzatziki, spanakopita, moussaka, Greek salad, honey drizzled baklava and assorted pastries. Along with this great food enjoy a glass of our many authentic Greek wines and beer. As well for those coffee lovers, come and enjoy a Greek coffee or original Greek frappe in our custom built café setting.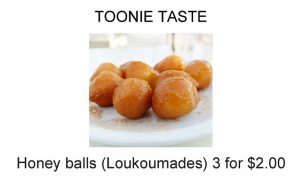 ---
CONTACT:
Spyridoula Agathos – 647-239-0804
speedymaf@hotmail.com
www.prophetelias.ca
---
LOCATION:
Paramount Fine Foods Centre – South Parking Lot – Outdoor Tent
5500 Rose Cherry Place (north of Matheson Blvd East, one block east of Kennedy Rd)
Free Shuttle Bus stops at this Pavilion.
---
MEDIA: