HOST: Graham School of Irish Dance Parents Organization
Discover Ireland, experience our heritage and history.
---
ENTERTAINMENT:
The dancers will reflect traditional ceili dancing, current competitive dance styles and performance dancing reminiscent of Riverdance. Local schools of Irish dance will demonstrate their rhythm, grace and enthusiasm for an exciting and infectious form of dance.
The designs on the dancers' costume reflect ancient Celtic motifs and the omate drawings in the Book of Kells. The vibrant colours use metallic threads and material mimic the efforts of Irish monks who illustrated the Book of Kells and other illuminated texts.
The story-tellers and singers carry on the age-old tradition of passing along history through song and speech, the singers often performing without any musical accompaniment.
The music will encourage visitors to join in the dancing, to stop and listen to a tale of sorrow or jubilation, or to marvel at the skill of the musicians.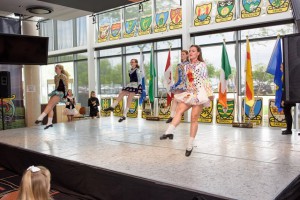 ---
CUISINE:
Enjoy the tastes of Ireland from coast to coast.
---
CONTACT:
Toby Warnell 416-305-4125
LOCATION:
Paramount Fine Foods Centre – Sportsplex Lobby
5600 Rose Cherry Place (north of Matheson Blvd East, one block east of Kennedy Rd)
Free Shuttle Bus stops at this Pavilion.
MEDIA: