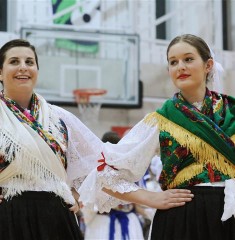 Host:
Croatian Parish Folklore Group "Sljeme"
---
Celebrating our 32nd Anniversary with Carassauga
Discover Croatia. Come and enjoy the cuisine, music, exhibits, crafts, costumes and wonderful hospitality of a country rich in traditions and history. The Jewel of the Adriatic.
---
Entertainment:
The host group Sljeme, along with guest groups from the surrounding GTA will provide entertainment through music and dance. Performances showcasing the beautiful costumes from the various regions of Croatia start on the hour.
Folklore Dancing, "TAMBURICA" Music and a variety of Croatian Folk Songs
Showtimes
2017 Entertainment Schedule
2017 Schedule

---
Cuisine:
The many tastes of Croatia are available throughout the Festival.
The temptation of Goulash with polenta (corn meal), Kranjske kobase (sausages), Fritule (better than Tim Bits), Strudels (cheese, meat, apple), Cedevita slushies, Croatian coffee and Baklava will fill your heart.
Nothing pairs better with a great meal than enjoying the world famous Croatian beer, Karlovacko.
---
Contacts:
Dean Smiciklas
Sylvia Bandula

647-774-8770
647-802-3648

---
Location:
Mississauga SportZone (formerly Hershey SportZone) Gymnasium, (on north side of Hershey Centre Main Arena)
5600 Rose Cherry Place ( North of Matheson, one block east of Kennedy)
Free Shuttle Bus stops at this pavilion.

---
Media:
2017 Photos
2016 Photos
2015 Photos
2014 Photos
2013 Photos