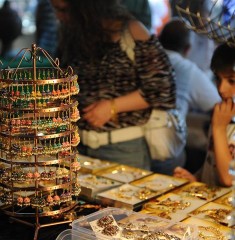 Canada Pakistan Friendship Association
---
Entertainment:
Visit us to see our history, culture and heritage. Touch and feel handmade bedspreads , embroidered dresses, handcrafted furniture , accessories and showcase of Pakistan's exports little known to the outside world. Dance to the beat of the Tabla ( a set of drums) unique to the region. Cultural Arts and Crafts and Classical Music.
2019 Entertainment Schedule
Performances will take place on the Outdoor Stage
Saturday May 25th – 10:00 pm to 11:15 pm – Shahid Ali Khan
Sunday May 26th – 1:45 pm – 2:15 pm – Khalil Ahmed

---
Cuisine:
Biryani- a very popular rice dish cooked with seasoned meat served with cool yogurt sauce known as Raita. Pakoras- fritters made with chick pea flour are a popular snack. Gulab Jamun – mouth watering balls of flour and Khoya dipped in sweet syrup. Jalebi – made with lentils with sugar syrup. Chappli Kebob -made with marinated chicken or beef.
---
Contacts:
Tariq Shah – 647-741-5000
Kaiser Nawaz – CPFA President 416-994-0999
www.cpfacanada.com

Email: info@cpfacanada.com

---
Location:
NEW LOCATION
Paramount Fine Foods Centre – North Parking Lot – Outdoor Tent
5600 Rose Cherry Place, Mississauga L4Z 4B6
Free Shuttle Bus stops at this Pavilion.

---
2018 Photos

no images were found
2017 Photos
2016 Photos

2015 Photos

2014 Photos

2013 Photos