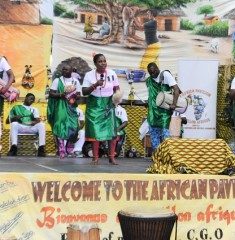 Host:
People of Motherland – A World of Cultures – Un Monde de Cultures
---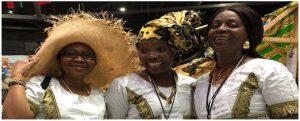 Welcome to Carassauga Festival 2019 in Africa Pavilion. We are in the 4th year of
'The International Decade of People of African Descent', Africa Pavilion presents
BENIN, BURUNDI, MAROC and TANZANIA as host countries. The public will
have an opportunity to discover these African countries, through their music, dances
and art .Our education team is Traditional Hair styles & Tribal Body Painting . Entertainment
is jump packed with from Montreal Zouglou from Ivory Coast; and several talented
artists representing the continent . Food is from Congo RDC, Nigeria & Ivory
Coast. Amarket place always growing . We thank you for your continue support.
ENJOY The FESTIVAL!
Bienvenue au Carassauga Festival 2019 in Africa Pavilion. Nous en sommes à la quatrième
année de la Décennie internationale des personnes d'ascendance africaine. Le
Pavillon de l'Afrique présente le BÉNIN, le BURUNDI, le MAROC et la TANZANIE
comme pays Hôtes. Le public aura l'occasion de découvrir ces pays africains, à travers
leur musique, leurs danses et leurs arts. Notre thème éducation est sur les coiffures traditionnelles
et le maquillage tribal. Les performances, nous aurons le groupe Zouglou
venant de Montreal; de la Côte d'Ivoire; et plusieurs artistes talentueux représentant le
continent. La nourriture vient du Congo RDC, du Nigeria et de la Côte d'Ivoire. Le
market africain avec encore plus de vendeurs. Nous vous remercions de votre soutien
continu.
BON FESTIVAL!

ENTERTAINMENT – EDUCATION / DIVERTISSEMENT
Africa Pavilion will be buzzing to the sound of music, jamming to the bit of drumming and dances with a lot of new artists who has never performed on Africa Pavilion' stage. Breath taking performance by our African Acrobats The Balakante Group or Gotta Lago will take you softly through musical ballades. Check for Africa Pavilion schedule where the entertainment is nonstop. While in the Pavilion, you will travel to the Cameroon one of our host countries. Learn about their cultures, legends & more. Don't forget to stay for a glimpse at Nigerian Fashion and watch a special dance from the Women from East Africa.
Le Pavillon Afrique sera en pleine effervescence au son de la musique, aux battements des tambours et aux pas des danses avec plusieurs nouveaux artistes qui n'ont jamais performés sur la scène du Pavillon Afrique. Surveillez notre programmation pour plus de détails. Durant votre visite au pavillon, vous serez transporté au Sahel avec nos pays Hôtes. Venez découvrir quels sont les pays en vedette cette année. Vous apprendrez sur leurs cultures, leur habillement, leurs légendes et bien plus. N'oubliez pas de vous arrêter à une exposition dans notre coin éducatif.
Showtimes:
Africa Pavilion Entertainment Schedule_Revised



Want to Visit Africa! For a Safari in in another part of the World! Drop by our TRAVEL BOOTH we have special offer and amazing vacations packages to several destinations! Visit us at Africa Pavilion to Win Surprise Prizes!!
---
Cuisine:

You cannot visit the pavilion without a stop for a bite Enjoy delicious food from East and West with special stop in Democratic Republic of Congo. The BAR offers refreshing tropical cocktails. Don't forget to try our famous fresh prepared Gnamacoudji [ginger juice], and the Bissap [sorrel juice]. You don't want to miss the fresh tropical fruits Popsicle sold straight from the truck parked inside the Pavilion.
Vous ne pouvez pas visiter le Pavillon Afrique sans faire un arrêt pour une bouchée. Savourez des plats délicieux de l'Afrique de l'Est et Ouest avec un détour par le RDC. Le Bar vous offre des cocktails tropicaux rafraichissants. N'oubliez pas notre fameux Gnamacoudji [jus de gingembre], et le Bissap [jus d'oseille]. Ne manquez pas le sorbet de fruits tropicaux.vendus directement du camion garé à l'intérieur du Pavillon
TOONIE TASTE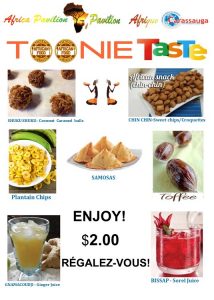 Contacts:
Olga416-458-8106 Georgette 416-994-0831
Coming to Africa Pavilion is a 'voyage' through the continent. Have your passport ready!
Email: people.motherland@gmail.com Website: www.peopleSmotherland@com
Venir au Pavillon Afrique est un 'voyage' à travers le continent. Ayez votre passeport prêt!
Location:
Paramount Fine Foods Centre – Main Bowl – 5500 Rose Cherry Place
Free Shuttle Bus stops at this Pavilion.
Visit our famous African market fills with souvenirs. Support our vendors who bring you unique products and our exhibitors who offer special services.
Visitez notre célèbre marché africain remplit de souvenirs. Soutenez nos vendeurs qui vous apportent des produits uniques et nos exposants qui offrent des services spéciaux.
[/location_col] [/location]
---
Media:
2018 Photos
no images were found
2017 Photos
2016 Photos
no images were found
2015 Photos
2014 Photos
2013 Photos

[/media]