HOST: The Cypriot Community of Mississauga and District
Cyprus is an island with rich tradition and history. This year the Cypriot Pavilion will be bringing the Carnival, a 10 day annual festival that is held in Limassol, Cyprus to Carassauga.
Join us to celebrate the Carnival with a Cypriot twist. Music, interactive games, dressing up with fun costumes are just few of the activities we have planned for you.
website – www.cypriotcommunity.com
---
ENTERTAINMENT:
While you experience our heritage and history through traditional and modern cultural dance performances, we invite you to taste the rich flavours of our Cypriot cuisine. Come see why the Cyprus Carnival has become one of the most acclaimed carnivals across the globe.
2020 Entertainment Schedule – coming soon
---
CUISINE:
Enjoy our authentic traditional Cypriot cuisine with: Souvlaki, Mezedes, Halloumi ( Cypriot Cheese), Greek Salad, complemented with Cypriot wine and traditional sweetes ( Baklava) and much more.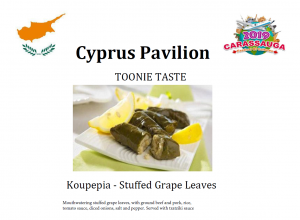 ---
CONTACT:
Andreas Georgiou, 416-817-4924
info@cypriotcommunity.com
www.cypriotcommunity.com
---
LOCATION:
** NEW LOCATION
Burnhamthorpe Community Centre – Applewood Hills Room
1500 Gulleden Drive, Mississauga L4X 2T7
Free Shuttle Bus stops at this Pavilion.
---
MEDIA: