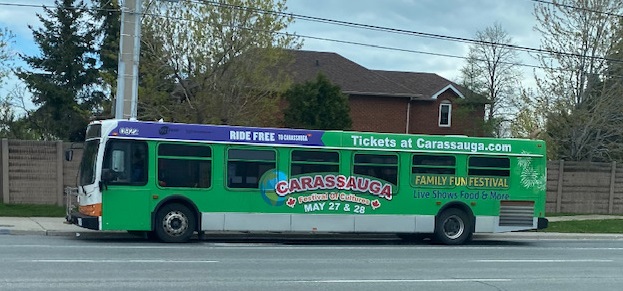 We hope you have enjoyed using our Carassauga Shuttle Bus service over the years. Festival goers have an opportunity to tour all of our venues in the comfort of our air conditioned shuttle buses.
Carassauga 2023 Bus Route Details
For a full-size map of Carassauga's Shuttle Routes click here.
For a webmap – click here.
FREE Ridership– Passport holders and accompanying children 12 & under ride free on both Carassauga shuttle buses AND regularly scheduled MiWay buses during Festival hours.
For MiWay routes only, this privilege includes ½ hour before & after Festival hours each day.
Buses are wheelchair accessible and air conditioned
There will be 2 Carassauga Shuttle Bus Routes; A & B, operating Saturday and Sunday
All routes connect with the Paramount Fine Foods Centre (Site 1 – PFFC) in front of the main arena
A map can be found in the middle of the Carassauga Passport showing all Pavilion sites, bus routes and bus frequencies.
Park FREE once at any Pavilion site and visit the other Pavilions by shuttle bus
There will be specially marked Carassauga bus stops with signs that display the Carassauga logo and details pertaining to the stop.
Note: some of the stops are also regular bus stops so please watch for the Carassauga name to appear on the electronic sign above the windshield
Detailed schedules can be found below
Route A – Approx. 60 minute service
Service begins from Square One
12:00 pm on Saturday and 12:30 on Sunday
Route B – Approx. 60 minute service
Service begins from PFFC
1:00 pm both Days
Need Help?
– Transit volunteers will be at the Paramount Fine Foods Centre – Info Booth during Festival hours
– Or you can call our Carassauga Bus "Hot Line" 647-668-7254
– If you miss the last bus, you may call us until 15 minutes past close each day.
Bus Stops
Carassauga bus stops are close to each Pavilion entrance. Many of them are also regular MiWay bus stops. Please check before boarding to ensure you are on a Carassauga shuttle bus, going in your preferred direction and route.
Site Location
Bus Stop Location
Routes
1. Paramount Fine Foods Centre

(21 Pavilions, Kids Zone)

on Rose Cherry Place

– In front of main arena, tall flags

– Separate stop exists for each route

A, B

2. St. Sava Serbian Centre

(Serbia)

on Dixie Road

– Stop beside the centre

A

3. Frank Mckechnie CC

(Armenia)

on Bristol Road E

– Across from the Community Centre

B

4. Canadian Coptic Centre

(Egypt)

on Eglinton Ave West

– In front of Coptic Centre

B

5. Portuguese Cultural Centre

(Portugal)

On Queen Street North

– In front of Portuguese Centre

B

§ City Centre Bus Terminal

(Square One)

Located on Platform B

– Inside terminal at the RT 68/78 stop

A

Carassauga Bus "Hot Line" Numbers: 647-668-7254