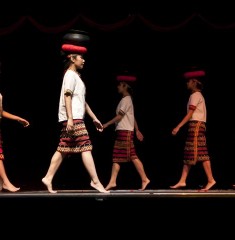 Host:
Culture Philippines of Ontario
---
Theme: "Panagbënga Festival" (Blooming Flowers Festival)
Panagbënga Festival is a month-long annual flower festival occurring in the city of Baguio. The term is of Malayo-Polynesian origin, meaning "season of blooming". The festival, held during the month of February, includes floats that are covered mostly with flowers; street dancing presented by dancers clad in flower-inspired costumes, which are inspired by the Bendian, an Ibaloi dance of celebration that came from the Cordillera (Mountain) region of the Philippines.
Entertainment:
Experience our heritage and history through traditional and cultural dance performances.
2019 Entertainment Schedules
---
Cuisine:
Enjoy the many tasty Filipino dishes and delicacies served by people known for their hospitality.
As part of the toonie taste the Phillipines Pavilion is offering: Rice/Noodles with Shanghai roll and menudo/afritada, 3pcs shanghai and empanadita, palabok and 1 piece puto or assorted kakanin, puto/kutsinta, siomai, siopao, puto bumbong/palitaw
Toonie Taste:
---
Contacts:
Mike Salazer
416-417-2145
Den Usta
416-805-3364
---
Location:
Paramount Fine Foods Centre – Rink 4
5500 Rose Cherry Place (North of Matheson, one traffic light east of Kennedy)
Free Shuttle Bus stops at this Pavilion.
---
2018 Photos

2017 Photos
2016 Photos

2015 Photos

2014 Photos

2013 Photos