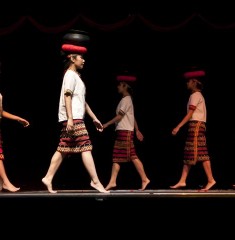 Host:
Culture Philippines of Ontario
---
The Philippines is a 7000 island nation in Southeast Asia, located within the western Pacific Ocean. This country is known for its culture comprised of a blend of traditional Filipino and Spanish Catholic traditions, with influences from America and other parts of Asia.
Theme: "Panagbënga Festival" (Blooming Flowers Festival)
Panagbënga Festival is a month-long annual flower festival occurring in the city of Baguio. The term is of Malayo-Polynesian origin, meaning "season of blooming". The festival, held during the month of February, includes floats that are covered mostly with flowers; street dancing presented by dancers clad in flower-inspired costumes, which are inspired by the Bendian, an Ibaloi dance of celebration that came from the Cordillera (Mountain) region of the Philippines.
Entertainment:
The country prides itself for its deep appreciation for art, fashion, music and food. Folk dances also play an important role in Filipino culture, by telling their history and preserving traditions. There are many dances performed in the Philippine islands such as the popular "Tinikling", to the exoticized "Pangalay", to the skill-based interpretation of the "Banga" and Spanish-tinged "Jota".
Experience our heritage and history through traditional and cultural dance performances.
---
Cuisine:
Enjoy the many tasty Filipino dishes and delicacies served by people known for their hospitality.
As part of the toonie taste the Phillipines Pavilion is offering: Rice/Noodles with Shanghai roll and menudo/afritada, 3pcs shanghai and empanadita, palabok and 1 piece puto or assorted kakanin, puto/kutsinta, siomai, siopao, puto bumbong/palitaw
---
Contacts:
Mike Salazer
416-417-2145
Den Usta
416-805-3364
---
Location:
Paramount Fine Foods Centre – Rink 4
5500 Rose Cherry Place (North of Matheson, one traffic light east of Kennedy)
Free Shuttle Bus stops at this Pavilion.
---
2018 Photos

2017 Photos
2016 Photos

2015 Photos

2014 Photos

2013 Photos