---
Host:
Streetsville Overseas Veterans' Club, Royal Canadian Legion Branch 139
Known as – Streetsville Legion

---
The Canada Pavilion – ALL NEW this year …hosted by the Streetsville Legion!
 NEW Location: 101 Church St, Streetsville On, L5M 1M6
Join us as we celebrate Canada's 150th Birthday …from coast to coast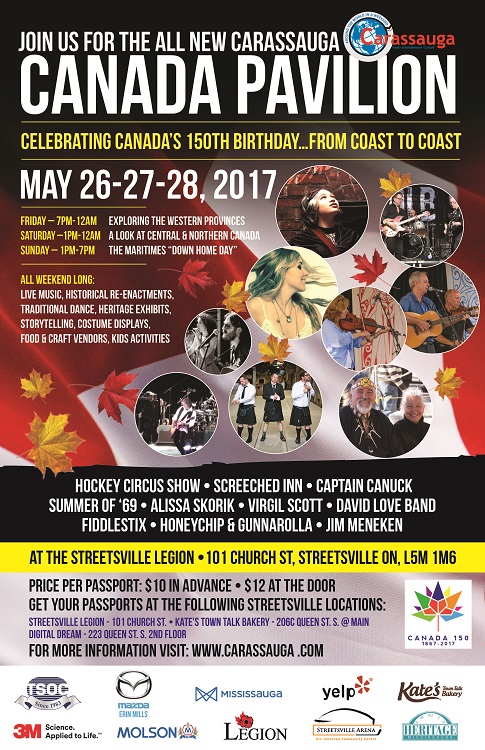 ---
Entertainment
Headliners
For kids & the whole family: Little Buckaroos Show – Saturday 3pm & 5:30pm, Paz's Hockey Circus Show – Saturday 1:30pm & 4:00pm, Captain Canuck
Kitchen Party Band: The Screeched Inn
Tribute Band: The Summer of 69
Host/MC
Virgil Scott (All weekend long)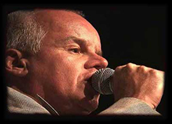 His entertainment career began in 1968 with his neighbourhood band, "The Innocence of Virgil Scott".  His natural talent soon found recognition; Virgil was opening for major Canadian recording acts across Southern Ontario.  The resurgence of Motown and Rhythm & Blues in the 80's propelled Virgil's career, as he became a mainstay headliner at nightclubs and casinos across Canada and the United States, and to this day enjoys an extensive following. You may recognize his voice from various jingles throughout the years, such as Canadian favorites Hostess Chips, Diamond Cheese, Molson, and The Bay. In addition to his musical endeavours, Virgil is also a well sought after Host for many events and functions, and is a member of the Child Find organization – This is an honour he takes seriously, hosting benefit concerts throughout the province year round.
Friday May 26th – Exploring the Western Provinces with…
7:00 PM – Country Artist – Elyse Saunders
Interactive Line dance lessons
9:00 PM – Summer of 69 – Bryan Adams tribute band
Saturday May 27th  – A look at Central & Northern Canada with…
Historical Re-enactments
Aboriginal Hoop Dance
Red Green's Duct tape Art Competition
6:00 PM – Julia Bentley and Gunarolla
8:00 PM – Fiddlestix
10:00 PM – The David Love Band
Sunday May 28th – The Maritimes  "Down Home Day" with…
1:30 & 2:30 PM – East Coast Step Dancers
A Jiggs dinner
3:00 PM – Screeched Inn
5:15PM – Kettles On
All weekend long: Live Music, Historical Re-Enactments, Traditional Dance, Heritage Exhibits, Storytelling, Costume displays, Food and & Craft vendors, Kids Activites.
Elyse Saunders (Friday 7:00pm) 
Peterbor
ough ON. born artist – Elyse Saunders is a country singer-songwriter and FACTOR recording recipient. Looking back, Elyse always knew she wanted to pursue a career in music and made the decision to record her first CD right after high school. After making a couple of trips to Nashville she completed her first self-titled album. The album had Elyse recording with some of country music's most talented artists. With the momentum of her first album, Elyse spent the past few years honing her skills as a performer, playing on as many stages as possible, sharing her gift as she goes.
Summer of 69 (Friday 9:00pm)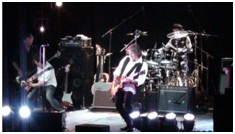 Canada's "tribute to BRYAN ADAMS" was established in 2004 and has since gained international recognition after being posted on the homepage of Bryan Adams' MySpace website. Its members include five very talented professional musicians, who have toured extensively all over North America.   On stage, SUMMER OF 69 faithfully reproduce the look, the sound, the energy and excitement of a real Bryan Adams live performance. Even the most discerning Bryan Adams fans will agree this band accurately and passionately deliver all the major hits; Expect to hear "Run to You", "Summer Of 69", "Everything I Do I Do It For You" and "Cuts Like A Knife", as well as two dozen other top 20 hit singles.  Bryan Adams is one of the most successful singer/songwriters of all time. He has countless #1 hit singles and his music is well known and appreciated by millions of people worldwide. Having such an enormous amount of popular hit songs to choose from, SUMMER OF 69 is confident that you will enjoy this unique and entertaining experience.
Julia Bentley & Gunarolla (Saturday 6:00pm)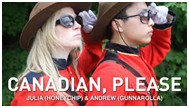 Julia Bentley (aka Honey Chip) is a Toronto-based singer-songwriter, originally from London, Ontario. A classically trained pianist and a graduate of the University of Toronto's prestigious music program, her songs range from emotionally wrought, to downright hilarious.  For "Canadian, Please," she brings with her co –producer Andrew Gunadie aka Gunnarolla. The amazing duo co-created this comical mix of rap and patriotism, which turned into a viral video on YouTube; with almost 3 million hits  Julia credits some of her greatest achievements thus far when asked to perform in Niagara Falls at the Olympic Torch Relay and to see her video played at the Ontario Pavilion in Vancouver during the Olympics.
Fiddlestix (Saturday 8:00pm)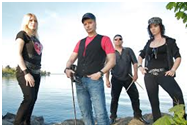 Fiddlestix is inspired by North America's extreme electric violinist: Steve Bowen, a Yamaha endorsee practically born with a violin in his hand, playing around the world since the age of four and stunning audiences with his limitless abilities. Fiddle Rock is the clarion call to his intense style, which seamlessly blends a unique and edgy mix of soaring solos, scorching riffs and innovative melodies. Canada has fallen in love with the magnetic sound of Fiddle Rock and the group that introduced it to the world.
The David Love Band (Saturday 10pm)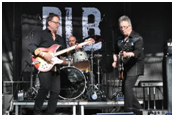 The DLB has been described as a cross between the melodic sound of The Beatles and the crunch of The Who. This Brampton, Ontario-based trio features the powerful tenor voice of vocalist / bassist David Love, an 18-year veteran of The Carpet Frogs, 14-year former member of The Burton Cummings Band, and current member of the internationally-renowned Classic Albums Live. Kevin Mulligan on the drums and vocals and the rock steady guitar and voice of Darrell McNeill are the solid foundation of this trio. The band specializes in the super-melodic pop and rock from the Summers of Love of the Baby Boom Generation. The David Love Band continues to play festivals, special events, clubs, casinos, weddings, private parties and corporate shows across Ontario and the northeast United States.
"Little Buckaroos" Show (Saturday 3pm & 5:30pm)


Saddle up and bring out the "youngins", to the Little Buckaroos show… Where your kids… are the stars of the show! Created and designed by award winning children's musicians Splash 'n Boots; who wanted to provide an entertaining, interactive, musical experience for kids, while providing a camera full of great pictures for their parents! Danielle LeBlanc as 'Roo' & Brian Melanson as 'Buck', bring with them a bucket full of props, lots of great music, and a ton of fun for the whole family!
River North (Saturday & Sunday)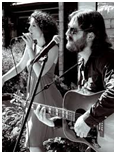 River North is a Mississauga based duo made up of two of our city's rising stars: Matt Zaddy and Heather Christine.  Partners in life and music, they combine moving vocal harmonies, prolific guitar playing, and a mixture of original and popular music that has moved audiences across Ontario.  River North will be performing a mixture of Canadiana for this year's Carassauga 2017 in the Canadian Pavilion.  More information on their performances can be found at www.heatherchristine.ca and www.mattzaddy.com.
Paz's Hockey Circus Show (Saturday 1:30pm & 4:00pm)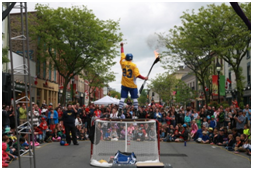 Paz is an award winning circus artist that has been entertaining audiences around the world, for 20 years. – The hockey Circus show is the ultimate hockey tribute show. Three periods of family friendly hockey circus action, in one rocking performance! He will have you doing the wave, competing for the cup, and cheering like a REAL hockey fan at his interactive Hockey Show that will have you rolling with laughter– "It's Canadiana at its absolute best!" – Voted one of "21 of the most Canadian things you'll ever see" – Buzzfeed
Archie & Pierette Martin (Saturday & Sunday 1pm – 6pm)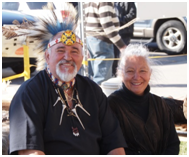 Archie & Pierrette come to us from our nation's capital, Ottawa Ontario, to share the history and culture of the Indigenous People. You will find them at the Wigwam, where they will be offering informative teachings, engaging Stories and a display of amazing artifacts.  An opportunity you won't want to miss!

Richard Collins (Saturday & Sunday)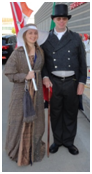 Have you ever thought it would be nice to take a walk in our past? Well Richard Collins is here to bring us on an historical journey with Sir John A McDonald – Richard takes us by the heart back to the day of our beginnings….He is a historian, storyteller and an character actor who combines the three, with a touch of humour, to create a rather interesting look at the life and times of Canada's First Prime Minister
Shinny Street Hockey Game (Sunday 1pm)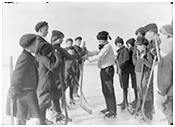 Come out and cheer on your local celebrities as they face off in one of our nation's favorite games. Hmmm …but is it Shinny or Street hockey? That is the big question! Well after many debates and lots of research …it turns out… it's just about WHERE you ask!  There is a common ritual for choosing teams for this SPORT though – no matter what you call it;  As players arrive they "throw" their hockey stick into a pile in the middle area between two nets.  Once enough sticks are in the pile, "someone" – (in our case the" OWB " aka Official whistle blower) – divides the pile into two smaller piles, Players then pick up their own sticks to determine which team they are on and voila…. The teams having been formed!  Should be fun!
Danielle's East Coast Kitchen Party (Sunday 1:30pm & 2:30pm)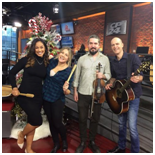 Are you ready to party? Then Join Danielle and company who will make you feel like you have just hopped on a plane and ended up at a fabulous kitchen part in the Maritimes. Here with a great duo of musicians, she is ready to teach us a little East Coast Step Dance and maybe even a lesson on playing the spoons if we are up for it. A fun, interactive and entertaining afternoon that will remind you of what you really miss, about being "down home"!
Screeched Inn (Sunday 3:00pm)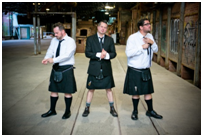 Screeched Inn is the definition of what you'd expect from a down home, east coast kitchen party. Upbeat, high energy folk-based music tightly performed in beautiful three part harmony. Make no mistake; they dress the part, too. Kilts, ear to ear grins, and a balance of wardrobe perfectly appropriate to the nature of the event. Heck, if the venue is licensed, they'll even bring the rum for an official Screech-in Ceremony!! Who are they, you ask? Greg Barry on acoustic guitar and vocals. Dan Speck on drums and vocals. Thom Speck on acoustic bass and vocals. Yep. They all sing lead, they all sing backup. And they're not bad looking either. Collectively, this band packs 50+ years of performing experience into its membership, with 2 diplomas and a degree in musical theatre, and all this contributes to an interactive musical experience for an audience of any age.
Kettles On (Sunday 5:15pm)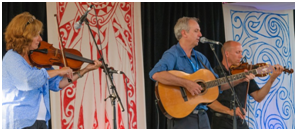 A Canadian Celtic trio from Stratford, Ontario, with a gift for capturing melodies and telling stories that mimic the warmth and richness of a maritime kitchen party." Sit back and enjoy as their music embraces the life and depth of traditional and contemporary folk songs all with that "down home feeling". Catch your feet tapping to the rhythm of a traditional jig and reel, or your heart moved by the story of a ballad that touches your soul. This is the music of Kettle's On! Bringing strangers and friends together, one fiddle at a time.
Alissa Skorik (Saturday & Sunday)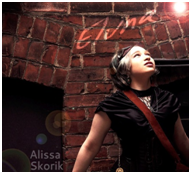 Alissa took a liking to Indigenous music in 2009 at the tender age of 12 when her history teacher showed the class a movie featuring the spirit flute.  Since then, she uncovered a natural talent, taught herself to play and has made remarkable strides in contemporary aboriginal music.  Alissa has performed with world renowned artists such as David Maracle, Nadjiwan and Donald Quan.  In 2014 at age 16, Alissa released her first EP "Eluna" which blended modern synths with the traditional spirit flute. Alissa strives to showcase the diversity of the spirit flute through her music. Since 2016 Alissa has been collaborating with Nadjiwan on their latest album "Superposition" and working on her own original album "Lacuna". Alissa strives to highlight the value of Aboriginal culture and music in Canadian society.
3M Duct Tape Sculpture Competition (Saturday 1pm-6pm)



Visitors will get a chance to watch as 4 teams of Canadian Artists, using Canada's own Duct tape as their medium, work to create the best Canadian themed sculpture on-site. The 4 teams will be chosen from a call for artists prior to the event. Each team will be given 6 hours, 25 rolls of duct tape and access to the "bonus bin' (filled with an array of recyclables and newspapers) Only those items can be used to create their one- of a kind masterpieces. Come out and cheer on the artists …and see what else you can do with another Great Canadian invention – Duct Tape!
Line Dance 101 w/ Double Trouble (Friday 7:45pm)


Cathy Montgomery and Kathy "K" Kaczmarek are better known as Double Trouble and have been teaching and dancing together for over 20 years. They are award winning line dance teachers and choreographers, with many of their dances being danced around the world.  Double Trouble are the proud to resident instructors at the world famous Nashville North in Norval, Ontario, and we are lucky to have them here at the Canada Pavilion to teach us a few steps….so we can dance along!
Jim Meneken (Saturday 1pm- 4pm)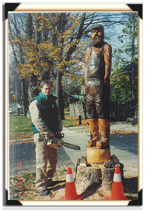 Watch as Jim creates a larger than life sculpture right before our eyes! Jim lives and carves in the town of Mono in beautiful Dufferin County. He has had a lifelong interest in art and started carving in 2003.  Once a teacher by profession, Jim has now taken up this new passion, full time. Living close to the Bruce Trail and the breath-taking Hockley Valley, Jim is inspired by subjects found in nature and strives to depict them as realistically as possible. Interesting faces are fun to carve and he especially enjoys the challenge of commissioned works where the client picks the subject!  His background in landscaping enables him to create works that enhance the outdoor areas in which they are displayed.
Le choeur des enfants de Caledon (Saturday 2:45 & 3:45)


A group of Brampton school children singing many of your favorite French-Canadian songs
Alisha Nauth – (Saturday 7:30)


 Ever since she can remember, Alisha has known she was meant to sing. Performing on stage since the age of seven, she is now primarily a pop singer but loves to sing in many different languages and genres.  Alisha draws inspiration from singers like Pink, Sia, Christina Aguilera, Adele, Celine Dion and Mariah Carey whose vocal ranges and abilities know no bounds.  One of her biggest accomplishments was finishing as one of the Top 9 Female Finalists in Canadian Idol in 2006. Alisha also has a passion for writing music and has written many of her own songs. She enjoys all forms of art, with special interests in hip-hop dancing, drawing and painting.  Her original music plays on radio stations in Canada and Europe.
Nikki Shawana – Aboriginal Hoop Dancer (Saturday 2:15/4:45)


Nikki Shawana is Anishinabe from Wikwemikong Unceded Reserve, Eagle clan. She travels around Ontario educating others about First Nations people through song and dance. The Hoop Dance shares a story that the dancer creates through the designs in her hoops. The designs include figures from nature such as a bird, a flower, a butterfly and more. Nikki has enjoyed performing the hoop dance at many Pow Wows, schools, events and festivals across Ontario
Clark Schlesinger – A Tribute to Bieber (Saturday 1:00pm) Upstairs



Thompson's Company, 2nd Regiment of York Militia (Saturday1pm & 5:15pm)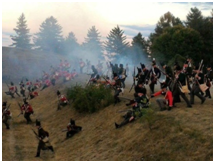 ---
Great food and drinks at the Coast to Coast sampler featuring
Alberta Beef, Bannock, Butter Tarts, Maple treats, Poutine, Jiggs Dinner, A great picnic area & patio, with a beer tent/cash bar, our air conditioned Club Room and much much more!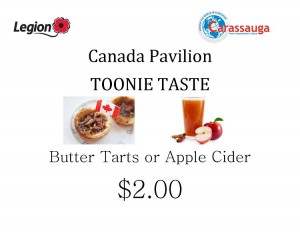 ---
Contact
Clubroom Phone: 905-826-8672  Fax: 905-826-6426
Web site: www.streetsvillelegion.ca Email info@streetsvillelegion.ca
Canada150 Chairman  Brad Butt  647-745-9748 bradbuttcpc@gmail.com
Advance Passports available for purchase at the Clubroom Bar.
---
Partner:
• Heritage Mississauga
---
*NEW*
Location:
Royal Canadian Legion Branch 139 Streetsville
101 Church Street, Mississauga
Free Shuttle Bus stops at this Pavilion.

---
Media:
2017 Photos
Streetsville Legion
2016 Photos
2015 Photos
2014 Photos
2013 Photos
2012 Photos