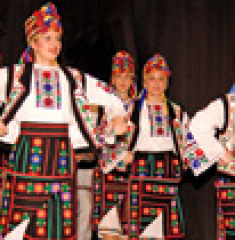 Host:
Dormition of the Mother of God Ukrainian Catholic Church (St. Mary's)
---
Entertainment:
As you pass through the doors, you will be engulfed by the spirit and hospitality, which has been the tradition of the Ukrainian people. You will find yourself traveling through time, quickly and magically from the early days of Rus' to be the beautiful and modern country now known as UKRAINE ! You will feel its spirit and splendor, its warmth and culture. Get caught up in the infectious excitement of our stage shows. Be a part of our energy and excitement of our very own Barvinok Ukrainian Dancers. Allow our dancers, food& music to take through centuries of the development of the rich heritage of Ukraine.
Let the Zoloti Struny Ukrainian Youth Ensemble engulf you with a traditional melody of Ukraine's national instrument , the bandura. Let us entertain your children with traditional Ukrainian art & crafts activities. Visit our exhibit depicting cultural traditions, clothing and dance costumes , beading and musical instruments.
Experience the beauty and history of the architecture of a country more than a thousand years in the making.
2019 Showtimes
Ukraine Entertainment Program
---
Cuisine:
Sample our Ukrainian traditional cuisine and quench your thirst with premium imported beer and vodka from Ukraine.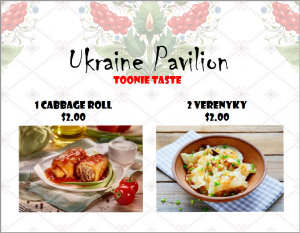 ---
Contacts:
Anastasiia Prysyazhnyuk
647-609-9848
Rev. Pankiw
905-279-9387
---
Location:
Dormition of the Mother of God Ukrainian Ctaholic Church (St. Mary's)
3625 Cawthra Road ( just south of Burnhamthorpe Road)
Free Shuttle Bus stops at this pavilion.

---
2017 Photos
2016 Photos

2014 Photos

2013 Photos