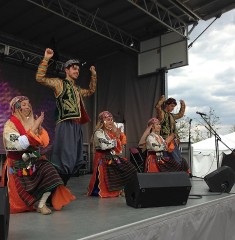 Host:
Turkish Culture and Folklore Society of Canada
---
Turkish pavilion welcomes you for a travel in time through Turkey's cultural mosaic from history, arts, folklore, whirling Dervishes, promotional films and live music presentations , Turkish traditional coffee with fortune tellers , grand bazaar with jewelry stores, hand-made souvenirs, leather, textiles & carpets, and folk dancers.
Showtime Performances on the Outdoor Stage at the Hershey Centre – South parking lot
Saturday May 26th 4:15 pm – Anatolian Folk Dancers
Saturday May 26th – 8:00 pm – Anatolian Folk Daners
Sunday May 27th – 5:45 pm – Murat Toy Music Group

---
Cuisine:
Delicious Turkish Cuisine including meat and chiken doner, meat and chiken shish kabobs, grills, traditional gozleme, mezes, salad and regional desserts. Famous Turkish spirits including raki, beer and wine.
Toonie Taste
Baklawa or Half Turkish Simit (Bagel) and Turkish Tea
---
Contacts:
Celal Ucar

416-720-1856

---
Location:
Hershey Community Rinks – South parking lot – Outdoor Tent
5500 Rose Cherry Place (north of Matheson Blvd East, one block east of Kennedy Rd)
Free Shuttle Bus stops at this Pavilion.

---
2017 Photos
2016 Photos

2015 Photos

2014 Photos