HOST: Culture Philippines of Ontario
---
Mabuhay! Visit the Philippines and immerse in the vibrant diversity of the Filipino culture. Experience the exciting fusion of traditional and modern day Philippines, as we bring you folk music, dancing and performances from young Filipino artists. Enjoy our sweet and savoury delicacies from the many regions of our country. Come and embrace the Filipino festival spirit, as we celebrate Pista Sa Nayon!
ENTERTAINMENT:
Philippines prides itself for its deep appreciation for art, fashion, music and food. Filipinos celebrate their culture through folk music and dance, telling their history and preserving traditions. The dances from the Philippine islands represent a myriad of stories from the mountain provinces of the Northern Luzon, to the rural lowlands of the central region of Visayas, all the way to southernmost island of Midanao. Such dances are the popular "Tinikling" from the rural lowlands, the Spanish-influenced "Jota Panderetas", the elegant "Singkil", and the skill based dance of "Banga-Salidsid" among many others.
Culture Philippines Dance Group – presents a glimpse of Philippine culture showcasing traditional folkdances, with their colourful costumes accompanied with authentic strings and percussion music.
Participate in learn to dance "Tinikling" at the end of the dance presentation.
"Pabitin" children's game where children age 5 to 10 can participate in grabbing some prize treats from hanging bamboo square.
"Karaoke" at Bahay Kubo – audience are welcome to sign up to join our "Karaoke" moments.
---
CUISINE:
Enjoy the many tasty Filipino dishes and delicacies served by people known for their hospitality.
As part of the toonie taste the Phillipines Pavilion is offering: Chicken Arroz Caldo and Pancit Bihon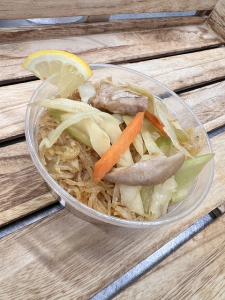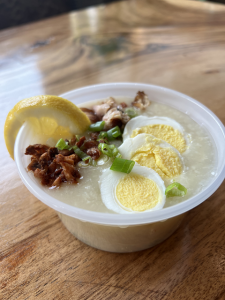 ---
CONTACT:
Mike Salazar: 416 417 2145
Divinia Santiago: 905 460 0398
www.culturephilippinesofontario.ca
Facebook – www.facebook.com/CulturePhilippinesofOntario
Instagram: @cpocanada
---
LOCATION:
Paramount Fine Foods Centre – Rink 4
5500 Rose Cherry Place (north of Matheson Blvd East, one block east of Kennedy Rd)
Free Shuttle Bus stops at this Pavilion.
---
MEDIA:
no images were found
no images were found