HOST: Heritage Mississauga & Mississauga Sports Council
What to expect:
The Canada Pavilion offers a unique opportunity to explore the best of Canada, on an imaginary train, without ever leaving Mississauga. Its Canada's 155 birthday and along with many interesting exhibits and some truly fabulous entertainment, this year's pavilion will showcase the Importance of Railways in Canada, Canadian Sports Hero's, an Indigenous Discovery Centre, understanding Canadian –made games and the stories behind Superman and Anne of Green Gables. We have lots of fun free Kids activities to enjoy. Every family gets a loot bag of cool gifts to take home.
That mixed with an incredible line-up of musicians, dancers and performers will make the Canada pavilion a prime destination for festival visitors.
---
ENTERTAINMENT:
Canada pavilion presents an all-Canadian line-up of talented musicians, dancers & artists all weekend long and we are sharing the stage with the Ireland Pavilion who will bring Irish dance, live bands and some good ol'Irish humour to the line-up.
The East Coast Kitchen party features performances by favourites Fiddlestix & Screeched Inn and don't miss our annual "unofficial screech-in ceremony" it's a ton of fun. The Canadian Country Jamboree brings with it an incredible line-up of country artists, and line-dance lessons. Learn about the Indigenous Jingle Dress Dancer, participate in contests and so much more.
---
CUISINE:
Enjoy a cold Bloody Caesar for a real Canadian treat that was invented in Calgary in 1969 and named the most popular mixed drink in Canada in 2009. For just $2 you can enjoy a truly Canadian treat our countries famous buttertarts.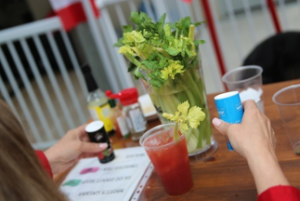 ---
CONTACT:
Jayme Gaspar – 905-828-8411 ext. 31
info@heritagemississauga.org
Find us on Facebook – Canada Pavilion at Carassauga
---
LOCATION:
Paramount Fine Foods Centre – Sportsplex Lobby
5600 Rose Cherry Place (north of Matheson Blvd East, one block east of Kennedy Rd)
Free Shuttle Bus stops at this Pavilion.
---
MEDIA:
no images were found