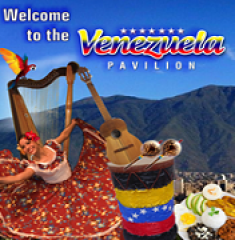 H

ispanic

C

ultural

A

ssociation

o

f

M

ississauga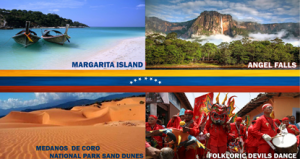 Discover the most incredible experience at the Venezuela Pavilion
E

njoy a story, a dream and discover the magic of our Venezuelan
culture, history,
geography, the vibrant colours, the mixed flavors, unique scents, music that touches
our souls of unexpected twists, authentic and warm people.
T
he Pavilion will showcase a tropical, colonial decorated atmosphere dressed
with a 600 feet long mural and backdrop painted by our famous visual artist
Ylana Stelling
, from Mississauga and a member of the
Orinoco Art Group
of talented

Venezuelan Artists

.
There are many ways to describe Venezuela and our people
J

o y f u l,

W

a r m,

A

u t h e n t i c,

C

r e a t i v e &

D

i v e r s e
Taste Exotic and Authentic Venezuelan Cuisine
Enjoy Breathtaking Performances
Dance All Day & All Night Salsa, Merengue, Zumba and More…
Visit & Take a Picture with the Paper Maché Giant AREPA Stand
Take a Tour to Margarita Island Booth and Have a Picture with the Fishing Boat
2019 Entertainment Schedule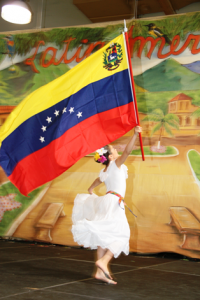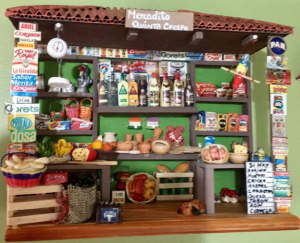 Cuisine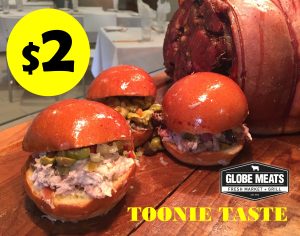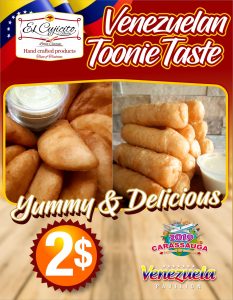 Contact:
Isabel Basalo: 416-317-0087 / Chabela Gonzalez: 905-567-4584
Location: ** NEW LOCATION **
Burnhamthorpe Community Centre – Arena
1500 Gulleden Drive, Mississauga L4X 2T7
Free Shuttle Bus stops at this pavilion.
Direct access from Islington Subway Station 5 minutes to the Burnhamthorpe Community Center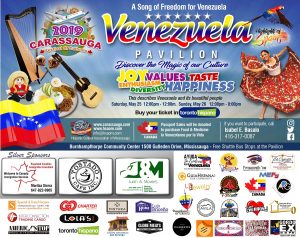 Media: