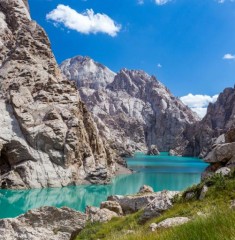 Host:
Kyrgyzstanis In Canada Community Group
---
New to Carassauga this year.
Interested in discovering the beautiful mountainous county of Kyrgyzstan, the history of its ancient nomadic people, the rich culture and traditions, the delicious authentic food and much, much more? Come and visit our pavilion and enjoy the hospitality of Kyrgyz people.
ENTERTAINMENT
"The schedule will be made available closer to the Festival dates."
TOONIE TASTE
"Details will be made available closer to the Festival dates."
Contacts:
Mira Kazybaeva (416) 871-6472
Location:
Hershey Centre – Outdoor tent
5500 Rose Cherry Place, south parking lot
Free Shuttle Bus stops at this pavilion. [/location_col] [/location]
---
Thank you to our sponsors