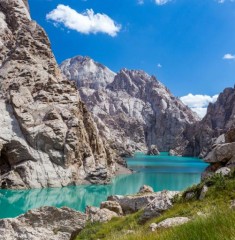 Host:
Kyrgyzstanis In Canada Community Group
---
New to Carassauga this year.
Kyrgyzstan might just be the most beautiful country in Inner Asia, with sweeping landscapes, high mountains, and beautiful wildlife. So very few tourists come to the landlocked country and many have never even heard of it. To change all that, you absolutely need to visit Kyrgyz Republic Pavilion to learn about our ethnic culture, rich history, traditions and cuisine.
Once inside our pavilion, activities include:
-Assembly of a nomadic house Yurt.
-National Kyrgyz cuisine demonstration and sampling.
-Exhibition and sale of handcrafts and souvenirs.
-Traditional music, folk dances and national games such as Ordo, Arkan Tartuu and others.
-Display of traditional costumes.
-Master-class of the national dance "Kara-Jorgo" and national instruments, such as Komuz.
ENTERTAINMENT
Featured on the outdoor stage located at the Hershey Centre- south parking lot
Friday May 25th – 9:45 pm
Saturday May 26th – 6:30 pm
Sunday May 27th – 2:00 pm
TOONIE TASTE
Contacts:
Mira Kazybaeva (416) 871-6472
Location:
Hershey Centre – Outdoor tent
5500 Rose Cherry Place, south parking lot
Free Shuttle Bus stops at this pavilion. [/location_col] [/location]
---
Thank you to our sponsors
2018 Photos