FREE PARKING SHUTTLE BUS and EXTRA PARKING SPACES
at the HERSHEY SITE!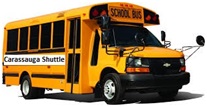 School buses link HERSHEY Pavilion sites with nearby parking lots approx. every 12 minutes
Operates only on Saturday and Sunday during Festival Hours
NEW overflow parking sites at

Gravel parking lot across from outdoor tented area
Industrial lots near Coopers / Rose Cherry intersection
Iceland Arena

Refer to Hershey Site Map for stop locations.