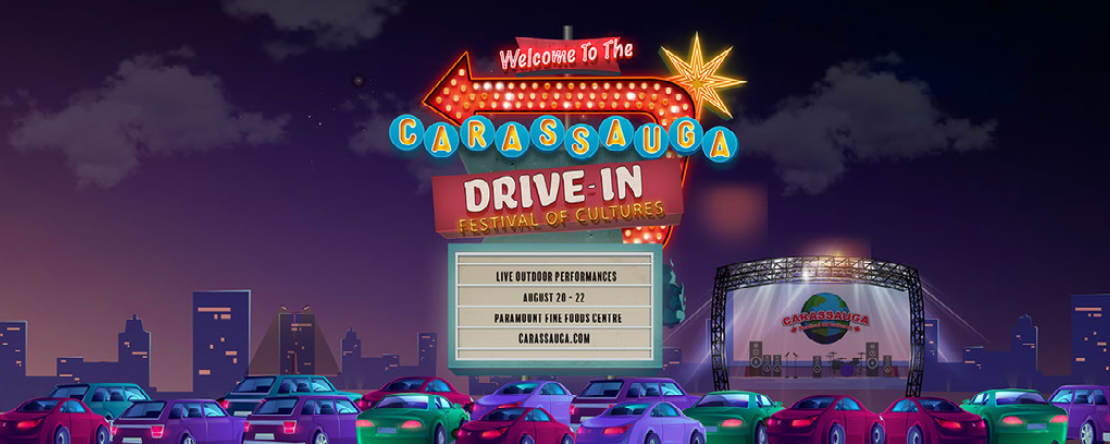 Carassauga

DRIVE-IN

Festival of Cultures
Join us for a live concert as we showcase a tremendous lineup of performances from local cultural groups and national recording artists. Bring your lawn chairs to sit outside of your vehicle in your designated spot.
Featuring 5 shows, various dance and musical performances and food trucks on site. What better way to showcase our cultures than by celebrating than with food and entertainment!

Location and Price
Location: Paramount Fine Foods Centre – 5500 Rose Cherry Place, south parking lot.
Price: $20.00 per car (per show), portion of fee will be donated to Trillium Hospital
Please note:
Admission is by car only
No walk-ins or stand-in.
Price covers all occupants in the car based on seatbelts.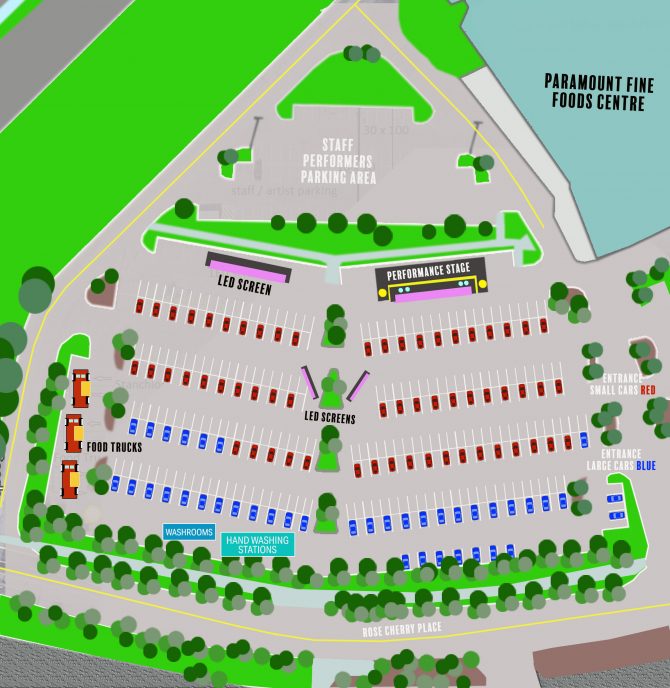 Important Event Safety Information:
Carassauga Festival along with the Paramount Fine Foods Centre puts safety first. All guests and staff are required to adhere to current Public Health and City of Mississauga guidelines regarding COVID-19 prevention in areas including:
Vehicle Spacing
Entering and Exiting Vehicles
Personal Protective Equipment (PPE) for staff
Contactless Ticketing
Food Trucks (food handling protocols in place)
Cleaning and disinfecting (Port-o-Lets / Hand Sanitizer stations)
Event will proceed "rain or shine," except during extreme weather conditions
We hope you come, experience and celebrate Carassauga all done safely.
General Rules and Event information:
Once you register, you will receive a confirmation email, this email will contain your reservation.
Each reservation admits one standard passenger car, truck, or SUV (RV's and limousines not permitted)
All cars must register for a ticketed show time, space is limited.
Reservation is not valid for multiple shows. (If you would like to attend more than 1 show you must purchase individual show tickets)
Maximum number of individuals in a vehicle cannot exceed seat belts, if there is an excess you will NOT be permitted entry
Gates will open 1 hour prior to your show time. All cars must be in their parking spot 15 minutes prior to show start time.
This is a timed event, if you arrive late or at the incorrect time slot, you will not be granted entry. Please check your ticket and arrive on time.
All guests will be subject to screening questions prior to entry
Upon entering the parking lot, you will be directed to your parking spot, by Staff.
Parking is based on a first-come-first-serve basis and limited capacity. (Parking spaces are not reserved)
To park in a space next to family or friends you must meet up ahead of time and drive in together.
Venue will park vehicles in a fashion to achieve both physical distancing and stage or video screen visibility.
Due to vehicle height, over sized vehicles (SUVs, trucks, and vans) may be directed to park in a designated area in an effort not to obstruct the view of standard size vehicles.
Carassauga and PFFC staff reserves the right to relocate any vehicle as needed.
Guests must follow parking lot speed limits, cones and marked lanes.
No re-entry permitted
All attendees must remain in their vehicles at all times. Attendees must wear a mask when outside of the vehicle, using the restroom or visiting a food truck.
Children should not be left unattended
Please use your emergency brake so that your lights do not go on if/when your car is running.
Sound will be broadcast through FM radio; the station frequency will be provided upon arrival
Guests must wait until the end of the show to depart the parking lot
Food truck selections will be made available prior to event for advance online ordering.
Do not bring alcohol.
We are not serving any alcohol.
Guests must adhere to all Carassauga Festival Inc. and Paramount Fine Foods Centre rules and policies, including all City of Mississauga by-laws
Carassauga and Paramount Fine Foods Centre staff reserve the right to move and/or eject any vehicle or patron who fail to follow safe distancing at the request of staff will be safely removed from the event. No refunds given.
The City of Mississauga, PFFC and Carassauga Festival Inc. are not responsible for any lost or stolen items
Events are subject to cancellation in cases of extreme weather
Permitted Items:
Face masks, binoculars, cameras (no detachable lenses), plastic/metal water bottles, outside food & beverage – excluding alcohol , small soft-sided coolers, blankets, service animals
Non-Permitted Items:
Alcohol, Narcotics, Weapons, Projectiles, Video or Audio Recording, Glass Containers, Large/Hard-sided Coolers, Flag Poles, Flags, Banners, Inflatables, Pets, Barbecues and Grills, Noisemaker, and Air Horns.